By Topring
Excessive noise in the workplace can cause serious hearing damage and result in lifelong hearing loss. In fact, it is today's most common occupational disease. This is why OSHA and other Occupational Health and Safety Agencies have established standards regarding the permissible limits of daily exposure to noise.
Continuous and repeated exposure to noise levels of 90 or more dB causes partial or permanent hearing loss. Occupational noise levels are not added up; they are combined. Therefore, if two different sources generate 80 dB each, the total noise level exposure will be of 83 dB. This is why OSHA implemented new requirements to protect all workers in general industry for employers to implement a Hearing Conservation Program where workers are exposed to a time weighted average noise level of 85 dBA or higher over an 8 hour work shift. There are alternative solutions, like the use of silent blow guns to reduce noise levels and prevent hearing damage. Please refer to the table below (on the A scale of a standard sound level meter using the given data).
Silent Blow Guns: efficient preventive solution
Blow guns are used in a wide range of industries to clean, dry, and remove dust from work stations and parts within the manufacturing process.
However, blow guns can contribute to high noise levels and cause occupational hearing damage. Fortunately, silent blow guns generate noise inferior to 85 dB, considered a low noise level which, is the standard required by the majority of the Provinces in Canada. Silent blow guns help prevent and reduce the number of cases of occupational hearing loss for workers that use compressed air.
Here is a selection of Topring's safety blow guns which meet the permissible noise level standards.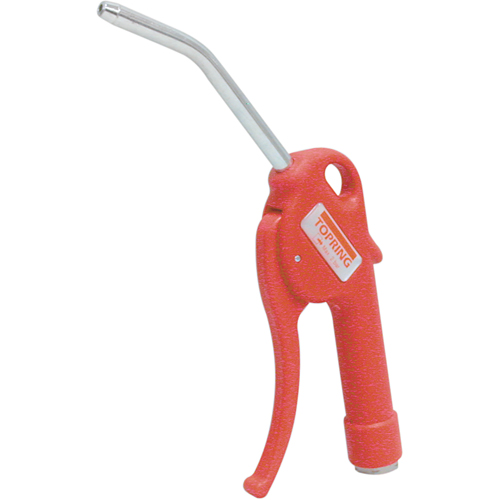 AIRPRO Maximum Safety Blow Gun
Description: built-in tamper-proof shut-off safety valve
Noise Level at 87 PSI: 67 dBA
AIRPRO Silent Safety Blow Gun
Description: quiet airflow and with airflow regulator
Noise Level at 87 PSI: 71.6 dBA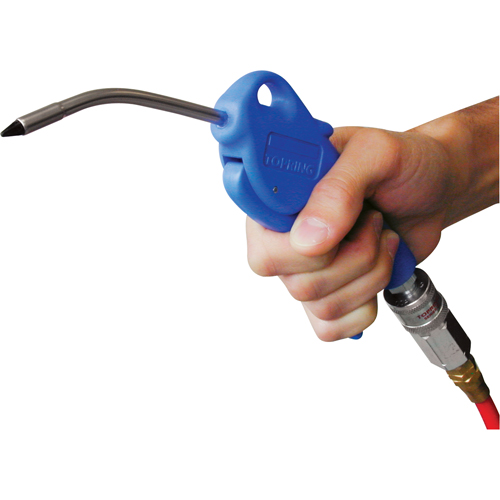 AIRPRO StarTip
Description: powerful and concentrated airflow to access narrow places
Noise Level at 87 PSI: 76.8 dBA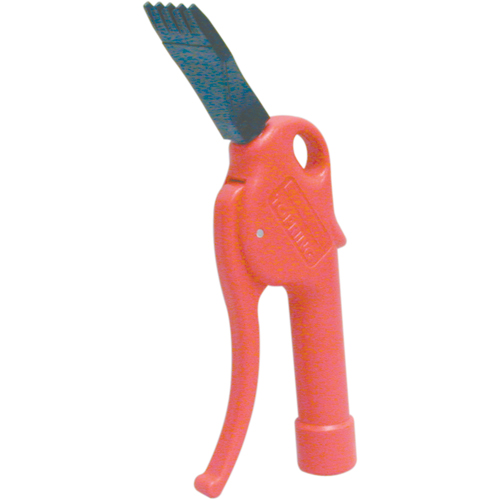 AIRPRO Flat Nozzle
Description: concentrated flat stream of powerful air
Noise Level at 87 PSI: 78 dBA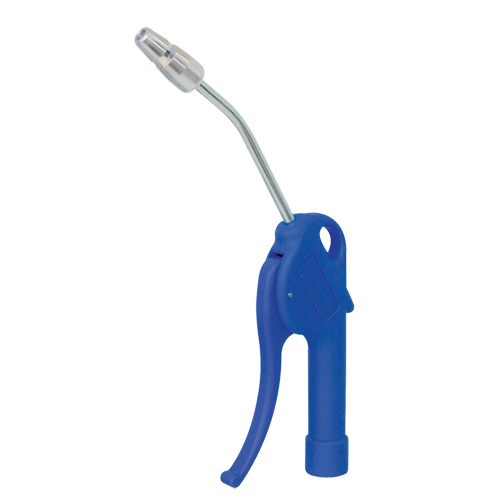 AIRPRO Venturi
Description: increased air thrust


Noise Level at 87 PSI: 79.7 dBA
---

A Pharmaceutical Company's Testimony
Operators at a pharmaceutical company used blow guns to clean dust from bins and conveyors. An assessment from the CNESST noted that the noise level exposure was greater than 95 dB.
Solution
Aware of the necessity of improving the working conditions, the company replaced its standar blow guns with TOPRING silent blow guns, thus reducing the noise level to 71.6 dB and creating a safer environment for all.
---
Useful links: